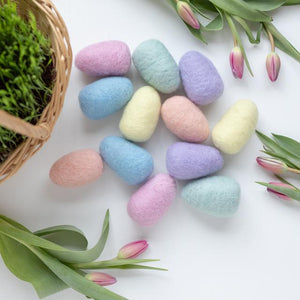 From Felted Sky
Ready to make some DIY Easter eggs that you can enjoy year after year? This listing is for 12 wool egg blanks especially made for needle felting. They come packaged in a cute reusable bag. This set is all colored eggs.  Two each of: pink, peach, yellow, mint green, blue, purple.

These are the same eggs that come in our Easter Egg Party kit. This pack is perfect for people who already have wool and needles and just want the eggs, or for those who have purchased the kit but want extra eggs to extend the felting fun.

These eggs are only *partially* felted. They still have a good bit of squish to them and will need some shaping and firming up before you decorate them. We like them because it takes less time to start with pre-formed eggs than making them from scratch - easier and less daunting for new felters to jump right in!