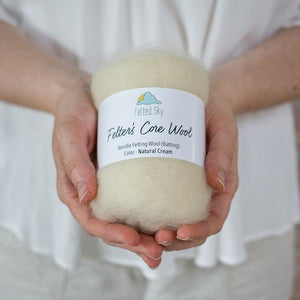 Core Wool from Felted Sky:
"This is some very fluffy wonderful wool batting. It can be used in a wide range of applications and yes, it felts well!  It is 100% natural US wool, in an off white/cream color that has been washed and carded. It still smells like sheep.

This wool is used in our sculptural needle felting kits to make the base shape that gets covered in colored wool. It also works well as a natural stuffing for all kinds of sewn decorations and small toys. It wet felts as well if you are looking to make your own backing for felted pictures or some dryer balls. "